Purolite
Advertising Campaigns  |  Brand Strategy  |  Brand Identity  |  Modular Brand Experience  |  Print Collateral  |  Video & Photography  |  Web  |  Brandterior® Design

In 1981, two brothers set out to change the world. Their focus was originally on resins made specially for water purifiers, aiding the globe in amazing technological advances. Purolite brought in AgileCat in 2011 to help give them a voice and identity that would speak to the world, not just their industry. Today, they are much more than a resin company; they're your solutions company.
Expansion Means Opportunity
In 2021, Ecolab (ECL) — a global leader in water, hygiene and infection prevention solutions and services — brought Purolite under its wing to expand their resin technology, bioprocessing and life sciences capabilities. This major acquisition raised obvious branding challenges — as well as great opportunities to build upon an already strong identity which we (AgileCat) had built from the ground up. Working hand-in-hand with both Purolite and Ecolab, AgileCat was tasked with thoughtfully ushering in this visual evolution and expansion of branded elements. The process and result were a great success, as a new thoroughly engineered logo suite and deeply supportive brand guidelines continue to propel Purolite into the future with a firm grasp on their own identity.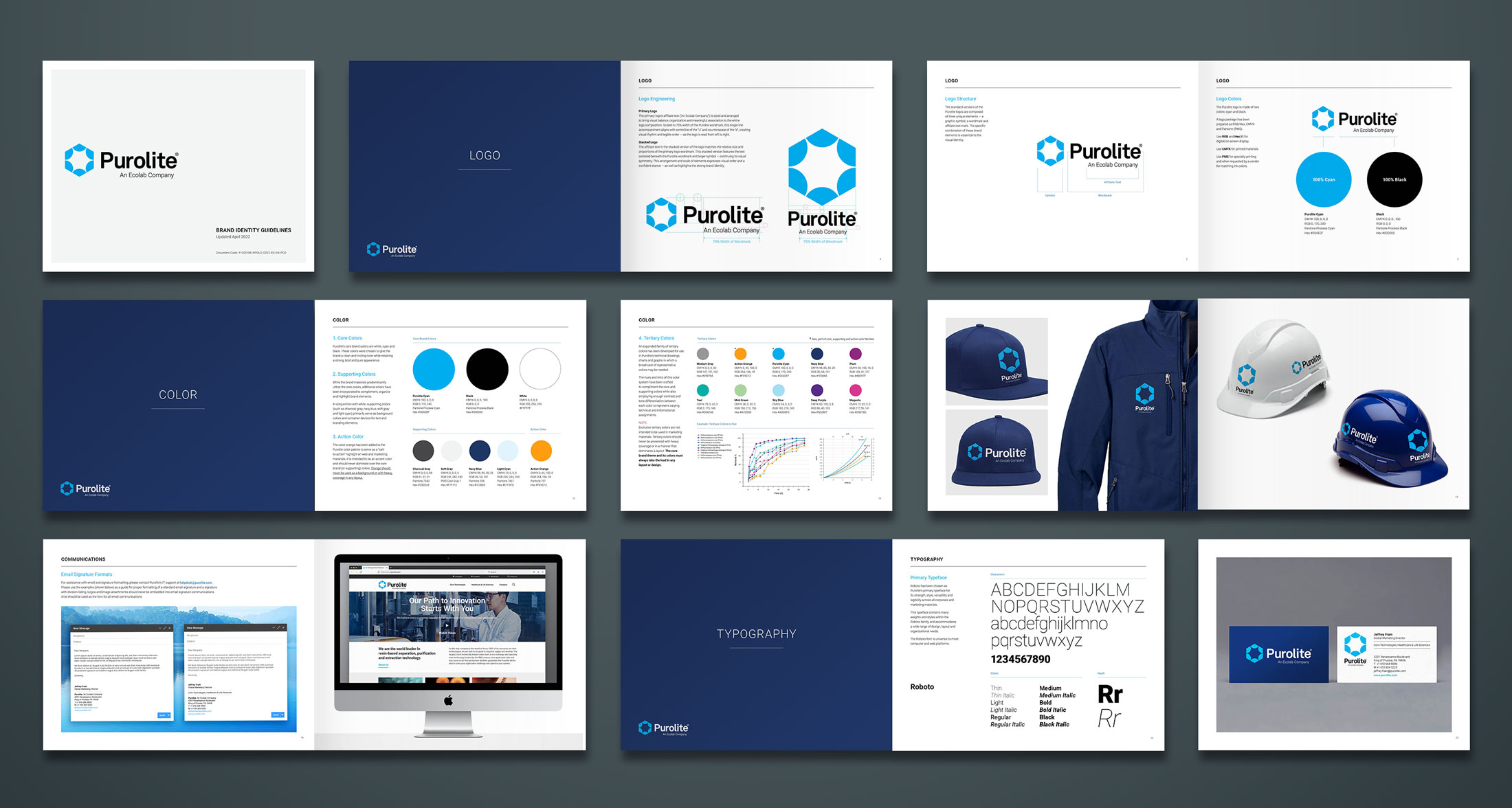 Engineering A Website For Engineers And Scientists
When it comes to digital, we knew that Purolite needed an efficient web and mobile platform that catches your eye but never distracts. Unlike any other in their industry, Purolite's website serves as an engaging view of the company and its offerings — as well as a comprehensive product database, resin modeling/prototyping tools, language support for seven global markets and a robust navigation system to accommodate their growing business divisions.
Where Simple Meets Smart
The packaging we design is as purposeful and effective as the products our clients make. When it came to Purolite, our design needed to be visually organized and flexible enough to span from sample size to tanker size.
Modular Brand Experience
All around the globe, Purolite teams attend many trade shows, conventions and sales events each year. AgileCat has created an array of booth designs and modular exhibits that have traveled internationally as an extension of the brand — highlighting industry specialties and specific product offerings — while providing the staff and visitors with a comfortable meeting environment.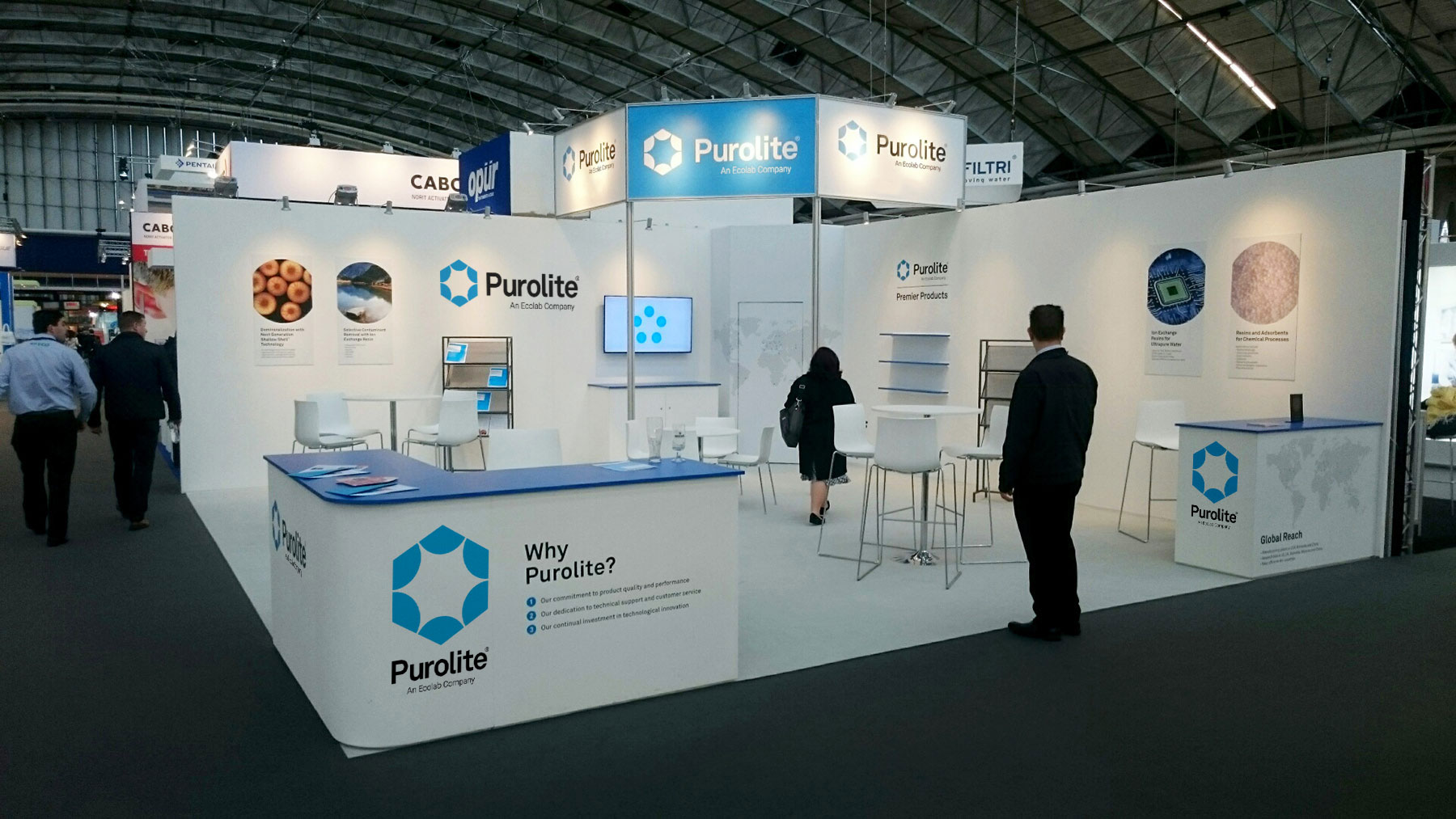 Living (and Working) the Purolite Brand
Through Brandterior® design, AgileCat continued to bring the Purolite brand to life with art installations inspired by (and built from) technical data, company history, photography, core messaging and dimensional flourishes — evoking a feeling of clarity, organization and sophistication that is integral to who Purolite is as a company. In addition to creating brand-elevating interior and exterior signage, AgileCat helped Purolite create an immersive experience for employees and guests alike — from engaging common areas, themed board rooms, welcoming lobbies and specialized technical rooms — to wayfinding solutions and stand-alone 'statement pieces' in both their headquarters and various R&D/laboratory buildings.
Team Building T-Shirts
Each year, Purolite taps AgileCat to concept and design custom uniforms for their company retreat. Although they divide the employees into groups, the event ends up bringing them closer together.