What My Summer Jobs at the Jersey Shore Teaches Us About Keeping Busy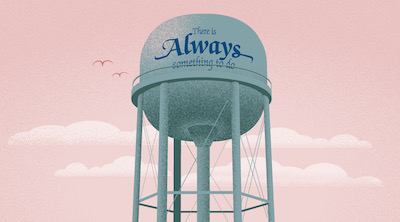 This article was featured in the online version of the Philadelphia Business Journal on May 18, 2020.
I was 17 and my Dad took out a pen and scrawled on a Post-it note.
55
49
557
550
608
83
9
Avalon Blvd.
The ultimate combination. The back way. And before New Jersey decided to throw up signs to make it nice and easy to find your way to the shore, it was like a closely guarded secret. My first trip through these tree-lined roads was in a 1968 powder blue, convertible VW that you could fill up for seven dollars. My mix tape flowed with the sounds of The Cure, Echo & The Bunnymen, The Smiths, and more. British pop from the 80's, somber as hell, a strict contrast to the size of my smile as I got closer and closer to Avalon.
The shore.
Those two words just light you up, don't they? And I don't care if your shore point is Margate, Ventnor, Cape May, or Avalon. The feeling is always the same when your car crests whatever bridge on whatever boulevard you drive on and the salt air kisses your face and hugs you like an old friend. You roll the windows down. We all do. Your blood pressure drops. Your smile widens. You are home.
I thought about this last night as I sat at my friend Wil's house, looking out on gorgeous, rolling green hills by an outdoor fire, smoking a cigar and drinking tequila, anticipating my trip to 7-Mile Island. Our mutual friend Scott joined us in a setting built for solving the world's problems. As we watched our dogs wrestle, we talked about all of the "what if's" that the current abnormal presents.
The Great Re-Open. Our world has been reduced to an almighty stoplight. Red, Yellow, Green. When will it happen? What will it be like? Theories and opinions are as frequently presented as masks anymore. And as I sped through the routes that are so familiar to me, they might as well be tattooed on my heart, I wanted to imagine that Avalon — perhaps — was just the same as it ever was pre-Covid.
Which of course it wasn't. But how fortunate I felt to take in an entirely new view for the first time in nine weeks. It is the ultimate elixir. Not a second home, but truly – home. The place where I first understood the meaning of work ethic.
My colleagues at AgileCat typically start laughing out loud when I list the jobs I had down here. Washing dishes at Busch's in Sea Isle. Painting the Golden Inn with my brother Matt (who wanted to fire me for being a really bad painter and he would have been right to do so). Slinging cheesesteaks at Phil's. Washing windows and bathrooms in homes along the coast. Cleaning the infamous Princeton at 6 a.m. every Saturday and Sunday before loading into a van to tackle construction work in Wildwood. Selling yellowfin tuna from Cape May to Ocean City for the "tuna whisperer" himself, Captain Bill May, he of Boss Lady fame. Bill deserves an article of his own, trust me. I recall being at a Jimmy Buffett concert and JB thanked his buddies Bill and Martie May from the stage. He's that infamous. A true shore icon.
But none of these jobs added up to my time behind the deli counter at Giovanni's in Sea Isle. I would credit whatever success I've had to a number of people, but right near the top of the list is Giovanni Ciro, a Sicilian immigrant who was relentless in his approach to the humble hoagie. Every one had to be perfect, every time. He took incredible pride in his craft and his product. Aged prosciutto, sharp provolone, and of course, his heroic hoagies, on Semolina bread for those who really understood food.
One day after the lunch rush, I sat on the counter and relaxed. "John" (his wife Lorraine's name for him) came over to be with a sly grin. "What are you doing?" he asked.
"Nothing, because there's nothing to do." I replied.
He laughed. "In business, there is always something to do," he told me, and handed me a mop.
And that's where we are today. Trying to do something, anything, to keep things going, keep things moving, but it feels like an anchor around both ankles. While our government officials, blindfolded, throw darts at moving targets. Limited logic and plenty of fear. Well-meaning I guess, but I think I speak for a lot of you when I say that I will happily take a risk to get back to who we were.
Philly's always been a physical town. No wimpy hugs or limp handshakes here. Never a half-effort. It's against our collective religion. We always express ourselves 100% and if you don't like it, tough.
That's what makes this so hard. I miss my town and I miss it's spirit. And I'm tired of my mask and what it stands for. I miss my friends from work, laughing together, trying together, and celebrating small and big things together. And the zoom get togethers are nice, but they aren't the real thing. Not even close.
Let's open back up, Philly. Because there's so much more we want to do. We'll take the back way. I'll drive.
— Peter Madden, President and CEO of AgileCat