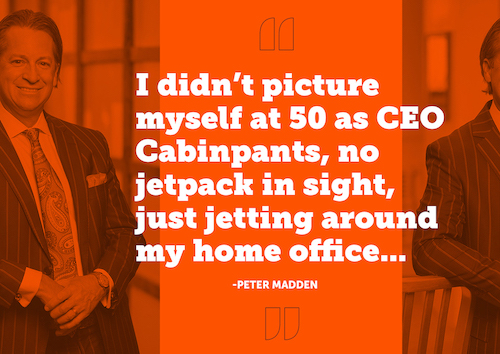 This article was featured in the online version of the Philadelphia Business Journal on March 30, 2020.
Famed UCLA men's basketball coach John Wooden once said "Adversity is the state in which man most easily becomes acquainted with himself."
Ain't it the truth?
If I held an informal poll of people, it runs the gamut. From panic and doubt to those who are taking advantage of what they say is a once in a lifetime opportunity. Trying new things, spending (a lot) more time with family, and ultimately – adapting amidst adversity.
As for me, I am only days away from turning the big 5-0. When I was a kid and thought about what life would be like at 50, I pictured myself in a jet pack, perhaps enjoying a Jetsons-esque dinner, where I drop water over a pill and voila! A scrumptious dinner appears.
I certainly didn't picture myself at 50 as CEO Cabinpants, no jetpack in sight, just jetting around my home office, through our makeshift homeschool. To that end, I'm ready to put any parent who has suddenly found themselves in a teacher role firmly in the category of "front lines." As much as we all appreciate teachers, that collective gratitude has grown tenfold over the past 10 days.
Ah, gratitude! Did I ever actually complain about my commute from the burbs to Center City? Grumble over a schedule that was too packed? Sigh during a networking event that I didn't see value in? Ask myself why I agreed to be a panelist?
Sure I did, and so did you.
And what I would do to be in a group setting right now. How I miss the energy, the new faces, sharing stories and laughs. Trading business cards and learning about a business I hadn't heard of. Or just learning about someone's life and background. For now, that's all on hold. The giant pause button on your favorite song.
I just want to push "play" again and get out of this perpetual Wednesday. It's like Groundhog Day meets two feet of snow, just with more anxiety.
A real estate developer friend of mine, who is a true visionary, called me out of the blue the other day. "When this is over, it's going to be like Mardi Gras every day," he said. I don't doubt him. I hope at that point, it will be OK to hug someone you've never met because I think I'm going to be that jubilant once this veil of uncertainty is lifted.
Call me bullish, but I'm incredibly confident that once we're on the other side of this, you will see a region – and the country – take off like never before. The feeling of overcoming adversity and making it through a challenge such as this will be an economic double espresso.
But we need a rising tide to lift all boats. Every day, I think of retail and restaurants. Without both, Philadelphia would be a shade of itself. Things need to be put in place to rescue brick-and-mortar and the many businesses that have been feeding our city for so many years. On the restaurant front, well-known Chefs like Vetri and Schulson are part of the Independent Restaurant Coalition petitioning Congress to save restaurants. I would implore everyone to check out saverestaurants.co and do what you can to support this initiative.
For my agency, we're staying true to our name and feel fortunate to have brought on a few new projects in addition to our current roster despite the current environment. As I've always said, "the busier you are, the more efficient you are." And for CEO Cabinpants, I've developed a pattern of exercise, hosting so many zooms you'd think I was an investor, and putting my efforts into work, not the news. And no, not wearing cabin pants. I just can't feel 'at work' unless I'm at least business casual.
A final thought: if I have any advice to share, have one thing to look forward to every day. It could be a run, zooming a friend you haven't caught up with, or making tacos with whoever's under your roof. Anything to give you that SON: Sense of Normalcy. I may have taken this too far when I went full suit and tie for a board meeting the other night (yes my wife Celeste called me a "massive nerd"). I can't tell you how good it felt to have business attire on again, though. And kudos to a fellow board member who appeared in a full tuxedo when his video appeared. We all had a big laugh over it, especially when he stood up to reveal shorts.
And in times like these, laughter is still good medicine.
— Peter Madden, President and CEO of AgileCat