What Lou Rawls Taught Me About the Power of Knowing Yourself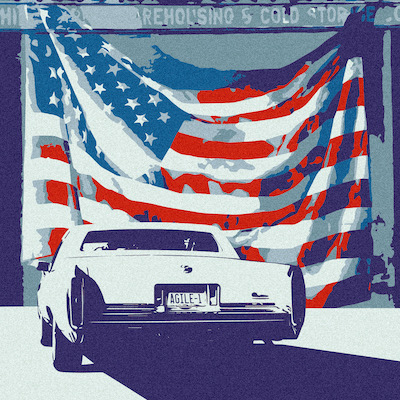 This article was featured in the online version of the Philadelphia Business Journal on May 26, 2020.
Whoa, I don't wish you no back luck, baby.
But there's no if's and but's or maybe's.
– Lou Rawls, You'll Never Find (Another Love Like Mine)
I had just started AgileCat as I turned 30, and was lucky enough to work with the amazing Jane Golden and the Mural Arts Program. I can still hear Jane's famous phrase in my head: Art Save Lives. Indeed.
After the fateful day that is Sept. 11, 2001, the Mural Arts Program created a breathtaking American flag on a building on Delaware Avenue (you've probably seen it driving on 95 North or on Delaware Ave. itself). Beyond being an absolute stunning work of art, it was the exact square footage of how many lives we lost on 9/11.
Once this glorious mural was complete, we put together a plan to unveil it with as much pomp and circumstance as it deserved. But to me, there was something missing in our agenda. We needed a hero. We needed someone to really put an exclamation point on this amazing tribute to American heroes.
I caught an article on a musical opening in town starring the infamous Lou Rawls. For the uninitiated, there are few songs in the world, and fewer singers, who can deliver the rich, buttery, ember-infused vocals of Mr. Rawls. Simply awe-inspiring. Justin Timberlake is sandpaper compared to the smoothness of Lou Rawls. You may be here because of Lou Rawls, just don't ask your parents directly.
So why not call up his agent and see if Lou would like to sing God Bless America at our little unveiling of this grand American flag? That's exactly what I did. And that was a lesson for me. I didn't overthink it, I didn't survey people, and I didn't talk myself out of it. I just did it, because it felt like the right thing to do. That was the day I learned to listen to what my ADD-addled mind asked me to do. And do it at the exact moment the idea struck.
Lou's agent agreed immediately. Just one catch. They needed a limousine.
Damn.
In the spirit of innovation, I called my Dad and asked to borrow his car. At the time, my only mode of transportation was a used bike that my roommate owned. Talk about days of champagne and caviar!
I washed the sedan, inside and out. Put some magazines, bottles of water, and mints in the back. Then dressed in a black suit and hat, and cruised it over to the Ritz-Carlton, where Lou was staying. He and his agent ambled out, eyed up their "limousine" and begrudgingly got it.
"You're the PR guy, aren't you?" Lou Rawls asked. I nodded yes and was then blessed with a baritone-level cascade of laughter. I'm thankful to this day that he didn't ask me to let him out of the car.
Now that the jig was up, I got into professional mode. "So, Mr. Rawls, I'd like you to say a few words, and then sing God Bless America," I unwisely requested.
"Talking," Lou said. And the word hung in the air like a kite. And then again. "Talking." He said the word like it was poison.
I squeaked out a yes.
"Mr. Madden. I am a singer. Not a talker. I'm going to sing. And then we're going to leave."
Talk about someone that knows who he is and what he does. Zero sum game.
So we cruised into that parking lot on a day whose weather I forget. I just remember that Lou Rawls agreed to do something special for a guy he never met and an organization he had never heard of.
I've heard God Bless America sung many times in my life. But this particular rendition was absolutely gorgeous and at the same time, heart wrenching. Lou sung for all of our heartbreak and all of our hope. He did not phone this one in, folks. He delivered like it was the last time his voice would ever be heard.
Not a dry eye in the house.
And while the politicians lined up to speak, his eyes found me in the crowd and he gave me the slightest nod. It was time to go. So away we went. I opened the car door to our pretend limousine and drove him back to his temporary — but very nice — digs. And the whole time I wanted to tell him how much the whole day meant to me. I never did though. Sometimes, you just leave things as they are and appreciate what you experienced.
I opened Lou's door and let him out onto a busy Philly sidewalk and asked him to sign my Best of Lou Rawls CD. He obliged and scrawled "To Peter, my Buddy." His agent took a photo of us, arms around each other. And though this singing genius has since left our planet, I think about him from time to time. I think about the power of knowing exactly who you are, regardless of circumstance.
You may be asking yourself, what does this have to do with the current abnormal? Actually — everything. Because Lou knew exactly what his purpose in life was, who he was, and what he was meant to do. And this time affords you with an amazing opportunity to explore these same questions and find some answers. The chessboard has been upended and the highway sign says Closed, for now at least. But forge on you must.
Ultimately, what's next is up to you and you alone. And there's no but's or if's or maybe's.
God Bless America.
— Peter Madden, President and CEO of AgileCat