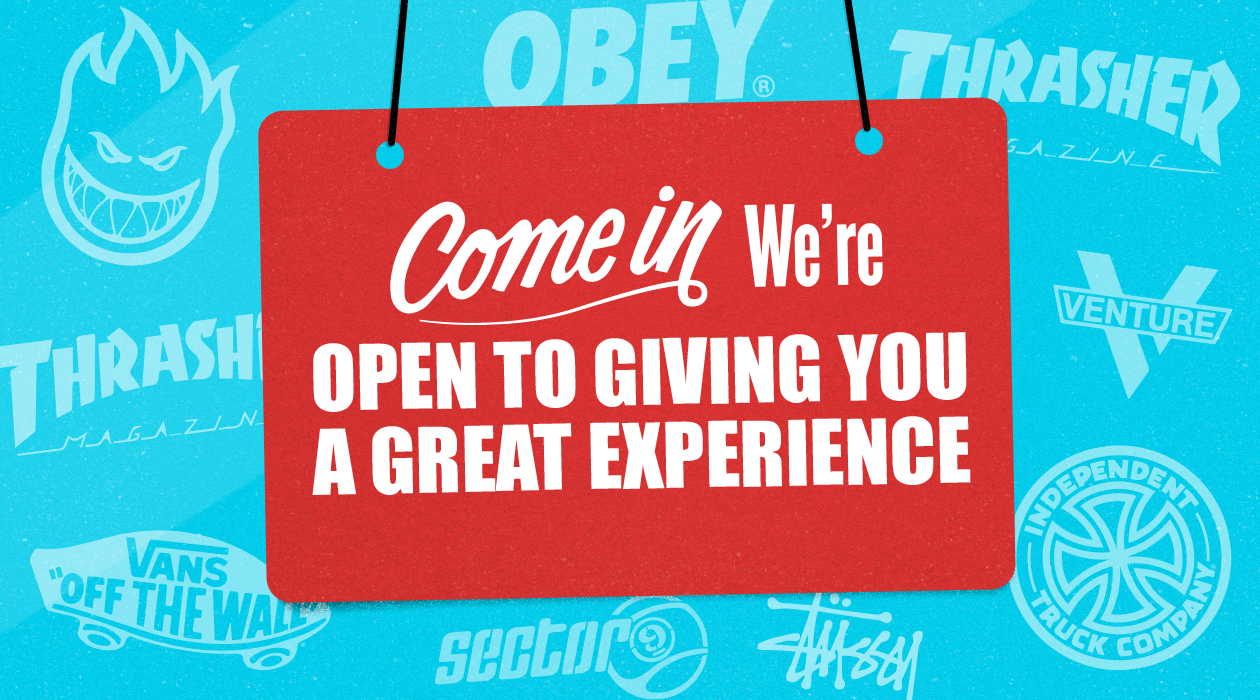 I often say at the 'Cat, "show me don't tell me," when it comes to any number of things. Great ads, great ideas, and most of all, the 'concierge service' we embody here. It's one thing to talk about great service, but as with relationships, this must be constantly put into action – anticipating needs, handling late night requests, and doing so with passion, purpose, and pride in our work and our space.
Because I am so service obsessed, and have been since my days slinging hoagies and bartending at the Jersey Shore, I am constantly observing how I am treated by representatives of any organization. From the basic burger joint to nicer restaurants, hotels to a clothing store, I watch it all – how I'm greeted, body language from other employees there, and if it all feels authentic.
Recently, my son Gavin turned 9, and his one and only request was a 'trick skateboard' – basically a serious board that was symbolically a big step up from the board he's had for the past couple of years. So we set off to a skate shop only a couple of miles down the road from our home.
When we got there, the owner was having some paintwork done. That being said, the shop was technically open, boards were on full display, and I hoped that he'd help me and the "G Man" get that magic board. Wrong. He basically turned us away and said to come back on Monday.
Given my lack of patience and promise to my son that 'today was the day' to get that trick board, we were directed by one of AgileCat's great designers – and big skater – Macdonald Whalen. Mac gave me the name of Fairman's Skate Shop in West Chester. About a 40-minute drive, but man was it worth it.
Now, skate and surf culture can be a little intimidating to anyone. But Mike at Fairman's treated my little guy like he was one of them. While Gavin looked around, eyes wide, Mike talked with him like he was his contemporary, not a kid. Not glad-handing him as a favor to me, but really because Mike seemed genuinely excited for him. "Wow your first trick board!" was said more than once. He carefully measured Gavin on different boards, making sure that he could narrow down his choices to the ideal choice. He listened intently, nodding his head when Gavin shared any detail. Most of all, he didn't rush him one bit. He recognized this was a special moment, and he seemed to really enjoy it.
Side note: he didn't make me feel like an old head – thanks Mike!
As Gavin made his different selections, board, trucks, wheels, Mike lit up each time: "Great choice!" "Spitfire wheels, they rock!" "Wow, a Palace board, fantastic!" I could see Gavin relax more and more, feeling special. And what really rocked was that Mike meant every word – this was not some hustle, up-sell, or transaction. The stoke was pure.
What was very cool was the pride Mike took in Fairman's, a literal mainstay for the community since 1977. He pointed us to their wall of history, where they had about 15 boards that Dave Fairman, the founder, had ridden at one time or another. It was amazing to see how the boards have changed. Mike was also an encyclopedia of skating knowledge, from skate culture and skate parks to what cities across the world were booming with skaters.
I don't think I'll forget that day at Fairman's and neither will Gavin. No matter what business you're in, remember, it's easy to sell something. What really counts is making someone feel special in the process, and doing so with authenticity. That's what makes a memory, and in this case, what will surely see me and Gavin back at Fairman's again and again. It's more than worth the drive.
Of course, because nothing feels better than supporting good people, I picked up a great longboard for myself from Fairman's – blonde bamboo with big orange wheels, and it's fun as ever to glide along the streets with my little man.
The Takeaway for anyone in the service business is to embrace the following:
Be authentic.
Be proud.
Be patient.
Be informed.
Delight – or "Light up someone's day."
Here's to your next ride.
– P. Madden, Top Cat