An A to Z Covid-19 Survival Kit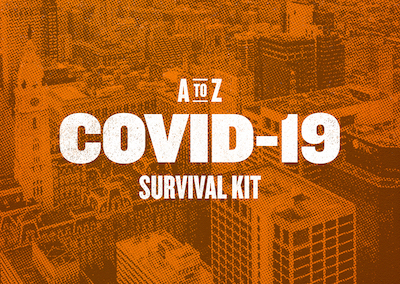 This article was featured in the online version of the Philadelphia Business Journal on April 27, 2020.
It was the end of another day in the big Q. I made a Manhattan and announced, "I think I'm really short of breath." I put my hand to my head and even felt a little hot.
"You've been on Zooms talking nonstop since 8 .m., and you just pace around all day," the much better half said. Ah, there's the rub.
It's like we need a little toolkit to deal with the current abnormal. So to that end, I assembled the below A-Z Covid survival kit. I hope you return to it more than you return to your local food store to try to find toilet paper or Clorox wipes.
Attitude: one of my perpetually positive, "we've got this" friends is Bobby Simpson, a legendary server at Nectar in Berwyn. He is always finding the joy in the little things and this isn't just social media faux positivity. When I stop there for takeout, his smile and demeanor are welcome beyond belief. And given how tough it's been, he has plenty of reasons to choose the negative. Be like Bobby!
Beauty: I took a walk through Villanova University's campus the other day with my wife Celeste. The grounds and architecture are simply amazing. Though I've lived minutes from there for 7 years, I had never taken the time to do that. "Isn't it amazing how much you notice when there isn't so much going on?" she said. So look up and look around, you may find something new, beautiful, and inspiring.
Create: write, write, write. Poetry, haikus, anything on your mind. Journaling is the most powerful way to bring yourself into the present, as opposed to worrying about the future. A powerful lesson that friend and mentor Pat Croce lives every day to his fullest, trust me.
Dogs: if you're even remotely considering getting a dog, just do it. Our "alpha female" and generally wilding-out blue French bulldog, Luna, is a gift from God, especially during this interesting pause in our daily lives. Dogs live for the moment and never watch the news. I lost count of the belly laughs we've had under this roof watching her.
Electricity: thank you PECO. That is all. Think about it.
Friends: Zoom isn't just meant for business. When is the last time you caught up with a friend from high school or college? Do it! You will feel the same age as you were when you first knew them. And if they live remotely nearby, go for it and have a Sixer.
Give: I went to Snap! Pizza's online ordering site the other day and got chills instantly. The first item to purchase was a large gift package of pizzas and salads that Snap would deliver to our health care heroes at Bryn Mawr Hospital. Kudos to owner Rob Wasserman!
Help: Though you may not be able to physically help someone, you can certainly help them with the sound of your voice. Reach out to elderly neighbors, family, or friends, and make sure they're doing ok.
Invest: I'm not talking about the market. Invest in yourself! Read that book, learn a new skill, try a new recipe. Challenge yourself and you may learn that your limits are just imagined.
Jokes: Thank you to the friends whose endless supply of memes keeps things light, even on days that aren't so great. Read them, share them, and laugh out loud.
Keep: Keep it fun, keep it light, keep it real. You are the captain of your ship, so are in charge of your perspective on things. Choose wisely!
Laugh: My mom has infamously said to "keep your sense of humor intact." One of the most powerful things you can do is to laugh at the abnormality of this all. That's not mean or strange, it's just being human.
Moon: Did you look up and see that gorgeous full moon last week? It's amazing to witness nature's greatest forces continue to put on a show. Life continues and nature endures. Just like you will. Remember that.
Nature: see "M."
Optimism: choose it. This isn't a static environment. We are starting to move in the right direction. Liquor stores and parks are open in Pennsylvania. It's not Woodstock, but it's a start.
Peace: if you don't meditate or practice mindfulness, think about what you can do to find peace within yourself. You might be surprised at the power of sitting still and not thinking for even a few minutes. It is the equivalent of a Swedish massage, without your hair being all messed up after.
Quiet: I miss the hustle and bustle more than anyone. Noise to me is energy and commerce. At the same time, there is something beautiful about silence. You notice more and you appreciate more.
Re-set: Rather than count what day of the Q we're all in, consider hitting the re-set button at the start of every day. And just squeeze the life out of that day.
Squats: not a big fan. Then again, home workouts are a big part of the recipe for sanity.
Thoughts: negative ones come at you hard, and often. Remind yourself they are imagined. Keep it positive. You owe that to yourself.
Underdog: Philly is the ultimate underdog and we always prove 'em wrong. Keep that Rocky spirit strong. You're doing great. Hell, put on that Jason Kelce speech from the Super Bowl Parade and run through walls!
Vigilance: when we're on the other side of this, you'll want to look back and be proud. Act accordingly. You've got this!
When?: I woke up the other day and thought it was Tuesday. I was pleased to be advised by my better half that it was Saturday. And I laughed out loud.
Xylophone: because with X, it's always xylophone.
You: your greatest champion and source of support looks in the mirror every morning. Go get 'em tiger.
Zoom: fix your background, it looks depressing. Or at least hang some tinsel from your ceiling fan. Even in these trying times, present your best self.
I promise that the finish line is in sight so get your knees up, Philly! Thanks for reading.
— Peter Madden, President and CEO of AgileCat