Aflac Duck Branding Insights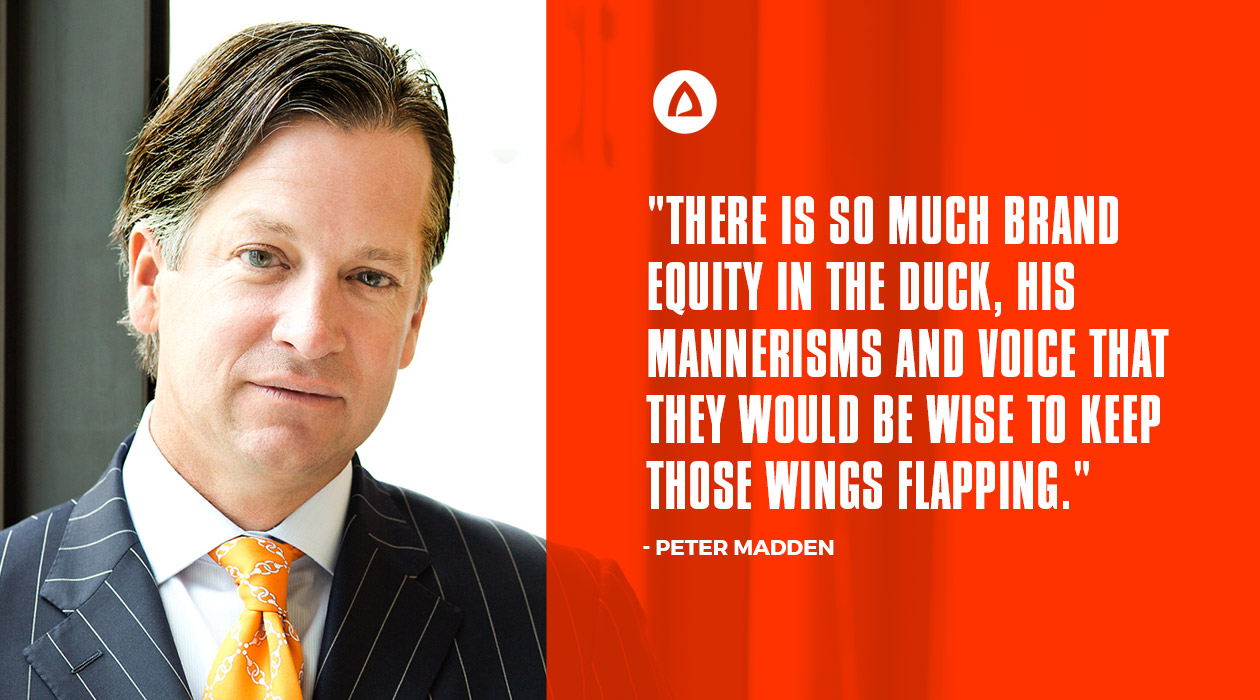 This article appeared in Investor's Business Daily on May 30, 2019.
Aflac CEO Dan Amos Knows The Key To Lasting 30 Years
Standup comedian Gilbert Gottfried tweeted out some jokes after the Japan tsunami. Aflac's (AFL)CEO noticed, and he wasn't laughing.
Several of the comments were viewed as offensive. That was a problem for Aflac. The Aflac duck is a rock star in Japan and CEO Dan Amos went into crisis mode. Gottfried was the voice that made the pugnacious "Aflaaaac" quack. Aflac insures one in four households in Japan, more than Nippon Life, the country's largest insurer for a century.
Aflac CEO Shows Fast Reaction Matters
Amos read Gottfried's tweets and reacted swiftly, showing his experience. Twenty-nine years ago when Amos became CEO, he might have taken a few days to assess the situation and weigh damage control. By the 2011 tsunami, though, he no longer had the luxury of making decisions at waddle speed.
Within 20 minutes of reading the tweets, Amos fired Gottfried and pulled every commercial but one. He spared a silent-movie spoof. In that commercial, the duck saves a damsel in distress to piano music. Amos used the spot as a help-wanted ad to find the new voice of the quack. The company got 12,000 online submissions and a mountain of publicity. Dan McKeague from Hugo, Minn. won the job as the duck's new voice.
Amos' swift action saved one of the most valuable brands from damage. The duck belongs in the mascot hall-of-fame, says Peter Madden, CEO and chief creative officer for AgileCat, an advertising agency in Philadelphia with no business ties to Aflac. "There is so much brand equity in the duck, his mannerisms and voice that they would be wise to keep those wings flapping," he said.
A Long-Standing Leader For The Long Term
Amos' ability to act quickly as Aflac CEO is a byproduct of his practically unheard tenure as CEO of nearly three decades. The average tenure of CEOs continues to decline in contrast — standing at five years. NFL players, on average, play longer at six years. And once-juggernaut companies such as General Electric (GE) are criticized for keeping leadership in place too long. But Amos is second to Warren Buffett as the most-experienced CEO among the largest 200 companies. He has no plans to retire.
Why, at 67, is Amos still there? The answer is simple. He has delivered Berkshire-esque results. As of the end of 2018, Aflac posted a 16.5% annual return since Amos took over vs. 9.7% for the Standard & Poor's 500. Revenue skyrocketed 712% to $21.8 billion, as of the end of last year, or nearly 8% compounded annually.
"Dan Amos is a remarkable exception which proves the rule on executive succession. He has grown his business 10-fold, made it a household name, extended his global reach, been highly profitable, and never lost his community anchoring," says Jeffrey Sonnenfeld, professor of leadership at Yale University.
What's his secret? The duck, primarily, Amos joked in an hourlong interview with Investor's Business Daily. But the man whose hair has turned almost as white as Pekin feathers has had more to do with Aflac's success than he likes to crow about.
Aflac CEO Is A Master At Controlling Risk
Amos earned a bachelor's degree in risk management, which taught him to risk a little for a lot, he says. The duck itself was a big gamble, considering financial companies steered clear of funny commercials. Banks or insurers weren't beer companies after all. But the duck tested off the charts and Aflac had no name recognition. Amos threw $1 million at it, twice as much as previous campaigns. "Aflac broke convention," Madden said.
The $1 million was a big commitment, but an amount Aflac can clearly absorb. Even the way the duck campaign was launched was a risk. It was on New Year's Day in 2000 — the day everyone tuned into the news to see if Y2K forced computers to go haywire. The duck would have seemed even more frivolous in the midst of a global catastrophe. Yet, things went smoothly on January 1, 2000, and Aflac had more visits to its website that day than it had during the entire year of 1999.
On the contrary, another risk wasn't worth it to the Aflac CEO. During 2010-2011, Amos said he was certain the yen was going to weaken vs. the dollar. He was right and he could have made a killing with a large hedge. But being wrong would have bankrupted the company. Not a good trade-off.
Among other ways Amos boosts his effectiveness include:
Address bad news. "Unlike wine, (bad news) does not improve with age," he said. In these days of instant news, Amos responds faster than ever. Problems are fixable. The key is to be transparent. Bosses don't like surprises, and neither does the board of directors. If Aflac is racking up good numbers one quarter, Amos may tell the board those numbers will be hard to defend 12 months down the road. Advance notice makes people more accepting, he says.
Stay with things that work. Amos thought the duck would have been retired to philanthropic efforts by now, much like Ronald McDonald. People are always coming up with ideas to replace it, which he ignores. Likewise, he could have diversified into more countries, but stays focused on the United States and Japan. Simply stated: Leaders protect what works. That's why it took him just minutes to fire Gottfried. And Aflac salesmen are not allowed to cheapen the company mascot by wearing duck costumes. (They wanted to.)
Understand things speed up as you age. Amos likes to recite that it took 68 years for 50 million people to ride in an airplane. It took 19 days for 50 million to use Pokémon GO. He didn't believe his own staff when they said an insurance claim can be processed, approved and paid in a single day. "I believe there have been more changes in the last five years than in the previous 35," he said. That's one reason Amos doesn't view his opinion as representative of the population at large's. He personally likes football, but resists the pitches Aflac gets to sponsor a college football bowl game. He used to give out duck neckties, but stopped because younger people don't wear them. Studies show that older people grow risk-averse, but leaders must take chances as their companies grow larger and can absorb failures. CEOs who don't risk don't last, he says.
Don't stew about things not in your control. Amos says it does little good to worry about trade wars and interest rates. "Certain things you have to wait out and see what happens."
Put very little in writing. As Gottfried demonstrated, the Internet is an unforgiving place that can take jobs and cost legal judgments. When Amos gets an email he writes back "Perfect, call me." He advises employees never to post anything they wouldn't want to see on the front page of the newspaper.
Amos: How To Avoid Executive Burnout
But at the same time, leaders must be accessible. The desk no longer binds Amos. He meets his wife for lunch because he can be reached at the restaurant table. The last time he went a day without doing Aflac's business was the day he got a pager. But, he's also stopped calling his secretary to check in because she can reach him.
Those who don't get out of the office will suffer burnout, which he says may be a primary reason for shorter CEO tenure. "It's a harder job today," he said. His good friend the doctor can let another doctor be on call, but a CEO can't let another CEO assume his problems even for a minute.
And there's only one Aflac Duck, says company spokesman Jon Sullivan, with a wink. And Amos treats it with the appropriate respect. When Aflac built its headquarters in Columbus, Ga., Amos insisted on one thing: a pond.
Six white Pekin ducks swim in it today.
Dan Amos' Keys:
Not only one of the longest-serving CEOs of a major company, Aflac, Amos is also one of the most effective in terms of delivering long-term shareholder returns in the financial industry.
Overcame: Uncertainty over when to make calculated bets on marketing or in financial markets.
Lesson: Deal with bad news with authority and speed. And if there is bad news, tell people it's coming. They'll be more forgiving.