Happy Birthday — From Six Feet Away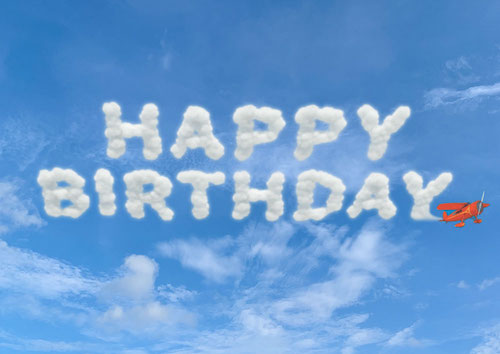 This article was featured in the online version of the Philadelphia Business Journal on April 6, 2020.
The bigger and certainly more important birthday under our roof belongs to my son Gavin. He turned 12 on March 31st.
I think a majority of us could probably learn from his attitude during this whole thing. Not a whine or complaint over not being able to see his friends or have a party. Just the same sunny kid he's been. Big smile. Big heart. Light and love in a frame that seems to expand an inch a month. We made a cake. He zoomed with a bunch of his friends. We watched a funny movie. Never once did he even encroach the idea that his birthday had been hijacked by the invisible specter that has woven itself into every aspect of life.
Surreal is a word I've used – perhaps abused – too often in the past few weeks. But it just continues to rise to the surface during our collective quarantine. And as I watched my parents pull into my driveway from New Jersey on a chilly and misty Tuesday to wish Gavin a Happy Birthday and drop off a present for him, there it rose again.
There's just nothing like seeing your parents in your driveway wishing your son a happy birthday from a safe distance. No hugs allowed of course. Just six feet of impossibility. You almost want to consult the Federal Guide of Family Affection clause. Is it possible to transfer this virus family to family? The hell with it, I guess. It was just a beautiful but sad sight. Carefully handing off a gift bag and blowing a kiss from six feet. We all smiled and we all sighed.
"I wondered if we would get pulled over if they saw our New Jersey tags," my mom (known as Aggie by my kids) said. Perhaps there is a special dispensation for grandparents wanting to wish their grandson a happy birthday? Two points and a small fine, anyone?
The dust had barely settled from their departure when my sister Maura and her four kids pulled in, a literal clown car, complete with laughter, balloons, and a chocolate cake. It was such a welcome sight and a nice break from my home office and zoom calls, which my friend and real estate wizard Jeff Mack calls the "new water cooler." She never turned the engine off but what's the use? It wasn't like the kids were technically permitted to bounce on the trampoline or play basketball together. Though it was nice to catch up from several feet away, if even for a minute.
What a nice couple moments of the SON: Semblance of Normalcy. Through the past several weeks, I've thought about how we search for it. The way we stretch for it. How much we miss it. The little things like handshakes and hugs. High fives and back slaps. Laughing in person – not on a zoom call. For now, we are relegated to our porches and decks, couches and kitchen chairs. Staring out of windows, hoping to see a rainbow. Or a smile. Other than our own in the mirror, though it's been a while.
Speaking of rainbows, or at least the pot of gold at the end, I'm inclined to not swim in fiction. And though I'm not one to defy the rules or laws in place, sometimes you need to stretch the rules in order to keep your wits about you and make a little dream a bigger reality. So on one impromptu evening, I found myself inviting two friends in life and business to meet me for what I call a Sixer. Six feet of distance + mixer.
It was the porch of an old restaurant, not in operation of course. I made a jigger of manhattans, which given I slung at least 10,000 of them in my bartending days at the Jersey Shore, you can trust me that they were sublime. My one friend brought Cubans, I poured the drinks. We talked about life, business, and everything under the sun except for the you know what. And man did we laugh! Laughing in person with a friend is like levitating for a minute. Any worry or stress just cascades off or you, replaced with the warmth that makes us human.
And to quote my friend Frank, this impromptu Sixer was glorious. The only thing that would have made it better would have been the hugs and handshakes to say hello and goodbye. Instead, we've all come up with our own greetings and farewells. Some bow, others tip their cap, many mimic a handshake, but the look in the eyes is always says the same thing: Can you believe this s***?
To quote my mom's note in the birthday card to Gavin, "you'll never forget your 12th Birthday."
The truth hurts. But I know my formerly baby boy's got this.
And so do you.
— Peter Madden, President and CEO of AgileCat