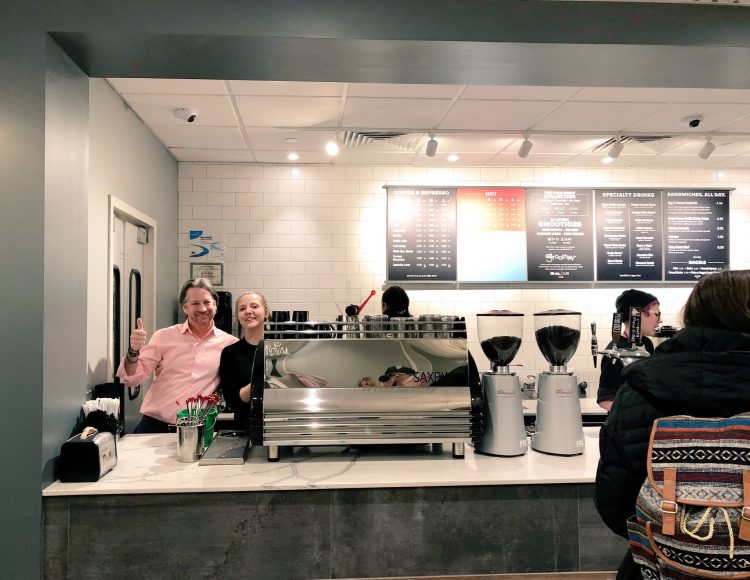 Of all the places I typically find myself on a Monday morning for the past 17 years since starting AgileCat, foaming milk, pouring concoctions, and serving breakfast sandwiches is certainly not one of them.
Yet that was how I spent my Monday morning last week, doing my best to learn the dark (roasted) arts while acting as a celebrity barista at Saxbys, an excellent – and fast-growing – chain of coffee cafés that started in Philadelphia.
My original anxiety about not screwing up the flow of their seamless team behind a bustling Center City location gave way to a natural cadence as I fell into the rhythm of the morning. And I had a blast doing it. Side note: it didn't hurt that I spent my formative years working at delis and bars, slinging hoagies, cheesesteaks, and manhattans to folks from the Jersey Shore to Manayunk. Something about the counter invites a little stage presence if you're built a certain way!
"Have fun, and don't forget to smile," said Nick Bayer, Saxbys Founder and energizer bunny, before things got cooking. The folks on the assembly line with me behind the counter made that easy. A fun, energizing group that truly seemed to enjoy their jobs. It was interesting to see how just their positive attitudes quickly turned those Monday sluggish vibes from patrons into big, beaming smiles.
As I often say, we here at the 'Cat can develop the best creative product in the universe, but if it isn't "served" with 5-star service and care, any client will remember the poor experience with much greater clarity – and pain – than the creative. No doubt, the team at Saxbys understands this in the greatest of detail. By the smiles, chatter, and excitement from all of them, you would have thought it was Friday happy hour. It was infectious, not just for me, but for the many dozens of people who were whisked through the experience.
Ultimately, here are five takeaways from my morning with the gang at Saxbys:
Have fun and smiles follow. Even the most tired of patrons cracked a grin when I called their name out in any number of accents I toyed with that morning – or did a 'long pour' of hot milk into a hot chocolate. Let's face it, people love to be entertained, especially on a cold Monday morning.
Stay "on." I never saw anyone behind the counter idling, even when we had a lull. Cleaning up, restocking, checking in with the manager, everyone kept their button switched to "on." That way, there was never a ramp up when another rush happened. The team was ready to rock – no matter the crowd size.
Take authentic pride. A few of the Saxbys baristas showed me how to make some of their very cool concoctions, from hot chocolate to "Golden Mylk," which basically tastes like Christmas in a cup. They took authentic pride in how each drink was made – with me and with their customers – really embracing the brand and the recipes with a full heart.
Inspire Up, Don't Boss Around. Nick, though the CEO, obviously loves being with his people. Where there was no doubt who was in charge, seeing him speak with the team looked more inspirational than dictatorial. The respect for him was palpable. I've always embraced this as the Top Cat but it was great to see how it works just as effectively in such a different business.
Ask Questions. The minute I was behind the counter, I turned into an inquisitive 8-year old. It was just so different than my day-to-day, and I wanted to get as much out of the experience as possible, so I wasted no time in learning about Saxbys, the recipes, the team, and yes – even how to foam milk
I can't wait to get behind that counter again!
*If you want to see all of the photos from my day at Saxbys, click here.
-P. Madden, Top Cat