A Big Expression of Happiness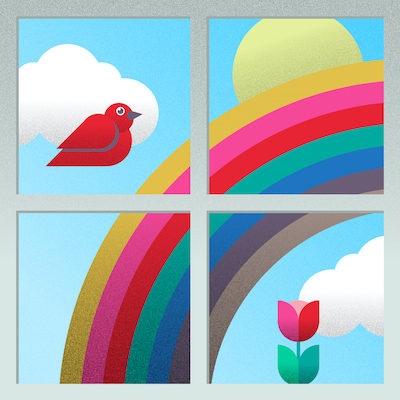 This article was featured in the online version of the Philadelphia Business Journal on April 20, 2020.
Add a little sugar, honeysuckle and
A great, big expression of happiness
Boy, you couldn't miss with a dozen roses
Such would astound you
The joy of children laughing around you
These are the makings of you
It is true, the makings of you.
Thank you, Curtis Mayfield.
It's 1:30 am.
I'm in my robe, ear buds affixed, enjoying an excellent Irish whisky (thanks for the Red Breast 15, Vin Donohue!). I'm watching and listening to DJ-of-the-moment DJ D-Nice of Boogie Down Productions fame on Instagram along with a crowd of 27,000, and growing, in what he has brilliantly dubbed Club Quarantine. But the dance floor has plenty of room, in fact, it has infinite space. Chic, Tribe Called Quest, MFSB (Philly's own!), Luther Vandross, and more, are woven together by the vibe-master in a brilliant pattern of sounds. Including the noted hopeful heartbreaker by Mr. Mayfield.
It is Monday night. Or early Tuesday morning if you want to be a stickler. And I am happy. For the moment. "Don't drink and drive…to your bedroom," D-Nice jokes. I'm not sure how many are laughing. But no doubt, we're grooving. I've never had so much fun at work in the home office under moonlight, frankly. On a Monday even!
These are strange times indeed. For me, it's like 1956 has had a run in with the current future. Board games with the family, taking walks, and cooking simple dishes morphs into TikTok for my 7-year-old Bianca (God help us all), NBA2K for tweening Gavin, zooms aplenty for Dad, school with Headmaster Celeste, and the aforementioned late night DJ in Los Angeles entertaining the hell out of me from thousands of miles away, yet right here in my WFH Wi-Fi paradise. At least there's no cover charge, plus no one is making fun of my robe. Or that I look like a stunt double for Jeff Spicoli in Fast Times At Ridgemont High. Man, hair grows quickly!
The world was already on the verge of being 100% virtual and I think our kids have a much better grip on the current abnormal than any adult. With a shrug, my son throws a headset on, cues up all his friends, and together they battle whatever evil force lurks before them. While parents nervously sip wine or something more interesting in the street and exchange stories and concerns from a safe distance.
Speaking of, the current evil force that finds us climbing the walls within our own domiciles, I've come to the conclusion that the virus has brought to the surface who you are at the core. Optimists are more optimistic, those who think the world is out to get them now have all of the confirmation they'll ever need. Artists are creating on a new level. And we all have an opinion on exactly when we get back to being who we are again. Whatever that was.
What makes this extra surreal is the backdrop against the current climate. Spring is the ultimate symbol of rebirth and new beginnings.
It is a patchwork of pastel fireworks hanging from trees, right in front of your eyes, the Technicolor sights only rivaled by their scents. In suburbia, birds sing, robins bounce around; hawks fly above, and my house is like an Amazon distribution center. Though we all know the health care workers on the front lines deserve all our praise and respect, can I throw in the drivers for UPS, FedEx, and Amazon as folks who are keeping the economy rolling along? I'm yet to meet one that isn't pleasant and positive. Though it's tough to tell if that's a smile behind their N95.
A major symbol of spring for me is the annual Masters golf tournament. For some, birds tweeting is the sound of this amazing season, but in my mind, it is the dulcet tones of famed broadcaster Jim Nantz ushering us into April with two simple words: "Hello, friends." My son was born just a couple of weeks before the Masters many years ago and I still remember him asleep in my lap while I watched the world's best bring their A-game to golf heaven: Augusta National Golf Club. The tradition of watching this famed golf tournament hasn't ebbed. It looks like another planet filled with nothing but azaleas, pimento cheese sandwiches, and happiness. But not this year. Watching Tiger's win from 2019 helped somewhat but it's tough to enjoy any drama when you know what happens on every shot before they swing.
Perhaps like me, you've been in the middle of watching a television show that reflects the way things used to be. A large crowd around a green at a major golf tournament. A party being thrown as part of a scene in a Netflix show. Hell, even the rose ceremony during the Bachelor (you're standing too close to each other ladies!). The overriding thought is simple: that looks dangerous and how soon can I do that again?
Soon, perhaps. In the meantime, you're doing great, I promise. I personally think we are in the third quarter of the almighty Q. If I told you that you would make it through five weeks of this and that you're still standing strong, you would probably be shocked. Imagine how much you've learned about yourself and how to handle this current abnormal. Use that in the several weeks ahead, because I think the end zone is in sight. Really.
None of us will ever be the same after this, but that just might be a good thing. So pick up the pace and keep your chin up. Laugh out loud, get dressed up for no reason, journal your experience, call you parents, try out a new recipe, write a poem, dance in your kitchen, play an instrument. Hell, buy a dog like us (more on Luna the blue French bulldog in the next column!). Look in the mirror and remind yourself that you do in fact kick ass for a living. Be good to yourself. Tell someone if you need help or ever feel worried or anxious. That's the most courageous thing you may ever do. Above all, don't forget you're loved, I promise.
And remember: as for the people in your life, whether everyday friends, family, or the hairdresser that is going to attack that mane ASAP when you're released from captivity, trust that they miss you just as much as you miss them. But we'll be together soon, I swear. It's what makes the world go 'round. Or as Curtis sang, these are the makings of you.
With a big expression of happiness, thanks for reading.
— Peter Madden, President and CEO of AgileCat